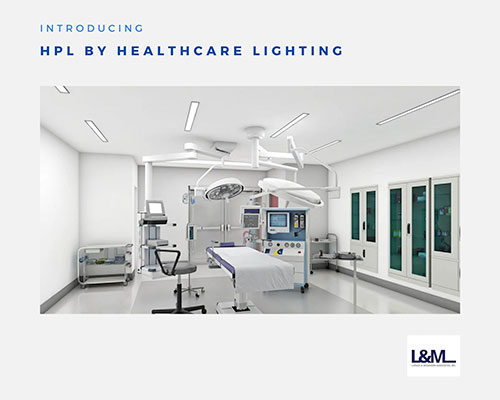 Introducing New HPL Recessed Linear by Healthcare Lighting
As a step away from traditional bulky troffers, HPL is a recessed linear light that delivers single and multi-modal functionality for patient rooms, healthcare hallways, common areas, and exam or procedure rooms. A recessed linear lighting solution with asymmetric and symmetric distribution, HPL combines architectural form with multi-function. 2 ft., 3 ft., 4 ft., 6 ft., and 8 ft. lengths Up to 115 lumens per watt IP64 rating nLight® wired and wireless controls Grid, mud-in flangeless, and drywall flange mounting options.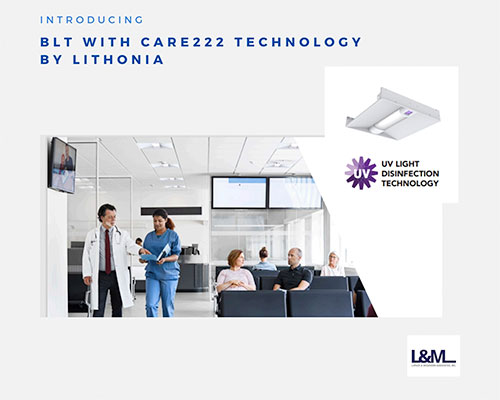 Introducing BLT with Care222 Technology by Lithonia
Lithonia's most popular lay-in for commercial spaces is now available with cutting-edge UV disinfection technology. The BL family is Lithonia's most comprehensive line, allowing you to add this new fixture in your space while maintaining a consistent overall look and feel. Care222 delivers filtered 222nm Far-UVC Light Disinfection technology for occupied spaces. It's technology designed to harm pathogens, not people.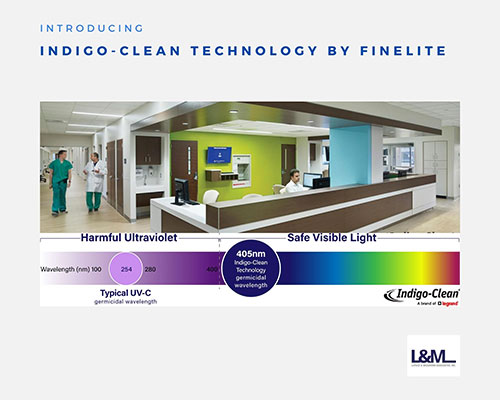 Introducing Indigo Clean Technology by Finelite
Indigo-Clean® Technology is a safe environmental disinfection light source integrated into Finelite luminaires. Proven through recently conducted independent laboratory testing, Indigo-Clean Technology kills bacteria, Influenza-A, and SARS-CoV-2* – the virus that causes COVID-19. The 405nm Indigo-Clean germicidal wavelength contains no ultraviolet (UV) and is safe for room occupants and materials.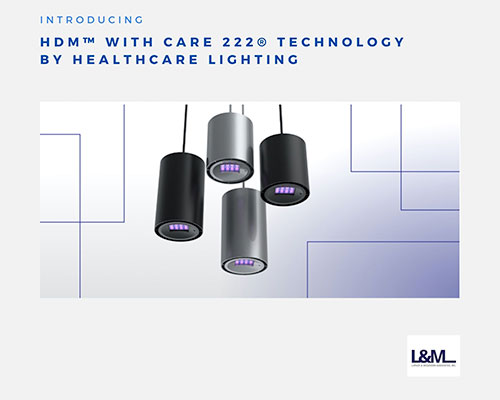 Introducing HDM™ with Care 222® Technology by Healthcare Lighting
Powered by the patented Care222® filtered 222nm technology, HDM inactivates pathogens on non-porous surfaces and in the air – even with people in the space. Their krypton chloride UVC lamp uses a short pass filter to remove wavelengths that are harmful to human tissue. Available in pendant, surface and recessed forms, these fixtures require no external controls or set up commissioning and are serviceable from below. Refer to product specification sheet for efficacy claims and claim substantiation regarding specific pathogens.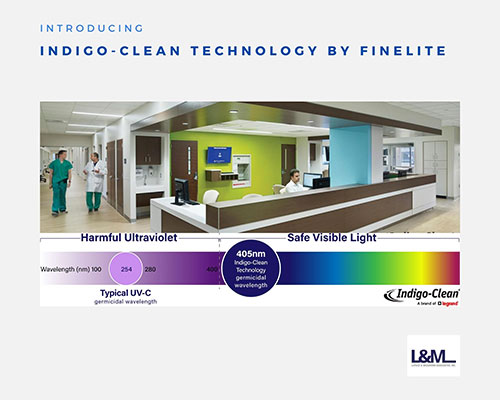 Indigo-Clean Technology by Finelite
Mitigating COVID is Now as Easy as Turning the Lights On. Finelite luminaires using Indigo-Clean Technology are proven to be effective by recently conducted independent lab testing to kill bacteria, Influenza-A, and SARS-CoV-2* – the virus that causes COVID-19. Indigo-Clean Technology uses a 405nm visible wavelength of light to kill harmful viruses by oxidizing them from within. 405nm is visible light and safe for people and materials unlike all types of ultraviolet light. Finelite has integrated this technology into some of their most popular fixtures – the HP-2, HP-4, HP-6 and HPR troffers.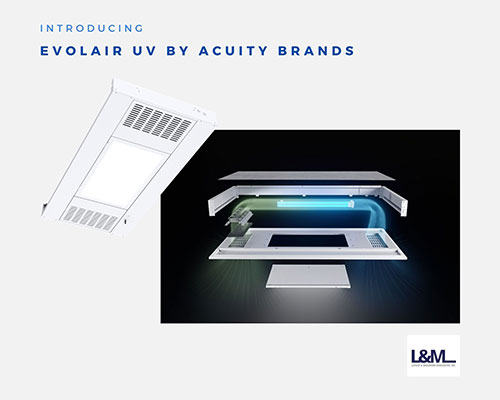 Introducing EvolAIR UV by Acuity Brands
EvolAIR UV™ delivers a modern approach to UV germicidal air room treatment. Engineered with advanced UV-C based pathogen control technology powered by UV Angel Clean Air™. EvolAIR UV continuously circulates pathogen-contaminated air through a sealed chamber, treated with high-intensity UV-C light to inactivate bacteria, fungus, and viruses, and is then returned to room for a cleaner environment. Sealed UV air treatment chamber is integrated into a 2′ x 4′ illuminated troffer, allowing for use in occupied spaces. Up to 103 lumens per watt and available in 3000K, 3500K, 4000K and 5000K color temperatures. Available for drop-in grid ceiling, recessed hard ceiling, surface mount or suspended installations. Discreet down-facing status indicator light for easy sight verification of operation or maintenance. Complete with a toolless UV lamp and filter serviceable from below without the need to access ceiling plenum.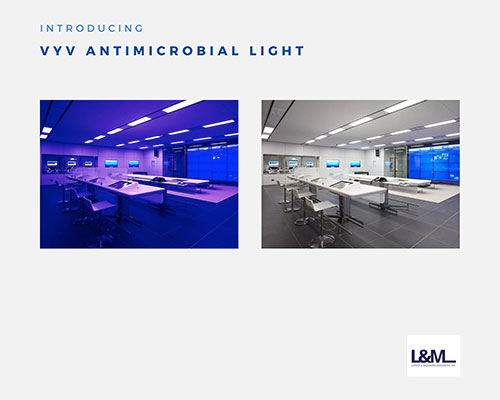 Introducing Vyv Antimicrobial Light
Vyv is a new class of clean light technology that harnesses the antimicrobial power within the visible light spectrum. Continuous use, UV-Free antimicrobial light stops the growth of and kills bacteria, fungi, yeast, mold and mildew with visible light. New studies also prove groundbreaking inactivation of viruses. Unlike UV light, Vyv is fine for us to be exposed to anytime and without any restrictions. This proprietary antimicrobial light technology cleans surfaces virtually everywhere we go today – from healthcare and athletic facilities, food & beverage and pharmaceutical manufacturing, travel and hospitality to products for our homes, in our workplaces, our schools, in automotive, horticulture and beyond.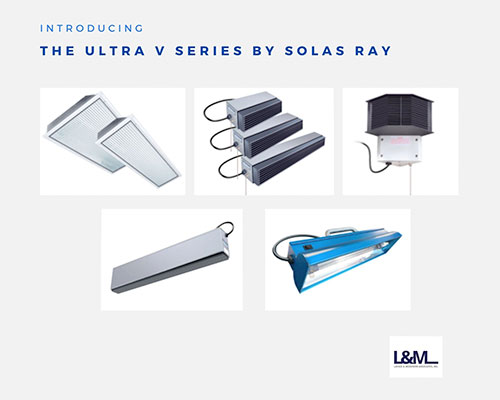 Introducing the Ultra V Series by Solas Ray
The Ultra V lighting equipment does one thing very well – Inactivates microorganisms by degrading their genetic material and molecular structure. These lights are available for recessed troffers, doorways, wall mounts, corner mounts and even a handheld wand. These products are BAA Compliant units that will be stocked at the Solas Ray facility in Indianapolis. Solas Ray is utilizing 254 nm UV to eliminate mold spores, bacteria, viruses, and other undesirable microscopic contaminants.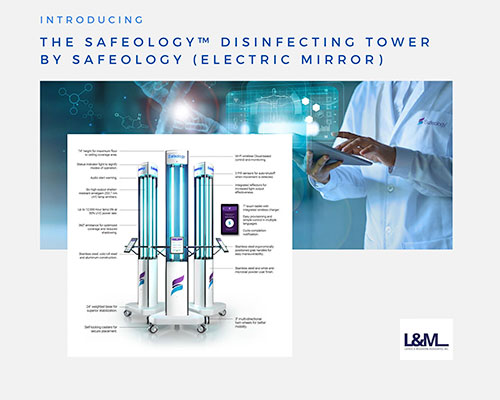 Introducing The Safeology™ UVC Disinfecting Tower by Safeology (A Division of Electric Mirror)
When Covid-19 hit, Electric Mirror's engineering, software and R&D teams quickly began developing new UV solutions. They assembled a Scientific Advisory Board of experts in infectious disease, microbiology, bioengineering and electrical engineering to guide and oversee their efforts. And within a few months of prototyping and testing, they were ready for large-scale manufacturing of Safeology UV disinfectant products. Their first release, The Safeology™ Tower gives you peace of mind by leveraging the science of light to create clean, pathogen-free spaces. With Safeology, you can safely, quickly, and efficiently eliminate up to 99.9% of surface and airborne pathogens, helping create a clean, worry-free environment.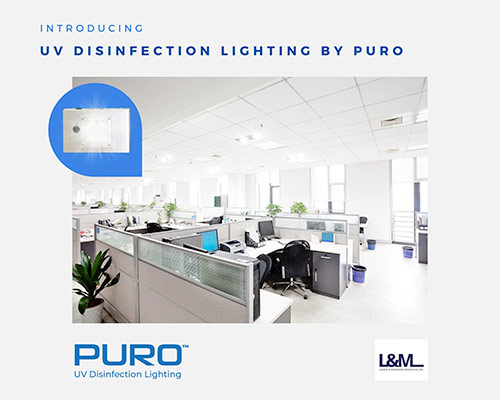 Introducing UV Disinfection Lighting by PURO™
Utilizing exclusive patents and technology from Violet Defense™, PURO™ brings a breakthrough UV disinfection solution to the market, which includes the first known high intensity full spectrum UV fixture that can be installed in a ceiling, suspended, or wall mounted. These fixtures kill up to 99.9% of bacteria and viruses and can significantly reduce the growth of fungi such as yeasts and molds, when used at the recommended spacing and runtimes. This technology gives users the ability to disinfect a room of any size, on demand. It can be used on demand, scheduled to run overnight, or integrated into a building automation system for reporting and ease of integration in day to day operations. PURO™ proprietary UV disinfection technology is now accessible and easy to use for the broader commercial market, in many applications.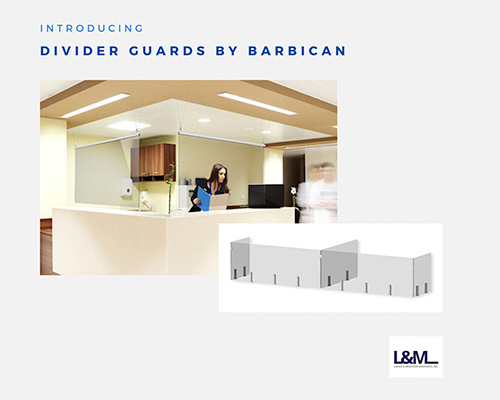 Introducing Divider Guards by Barbican
Barbican's Divider Guards are the perfect solution for protecting employees and visitors in a work environment. Permanent and temporary mounting options are available, including a clamp-on version. A cutout for document transactions or cable routing is also available.  Guards are washable with all Health Care grade antimicrobial cleaners making them suitable for areas with high sanitary requirements.  Using existing technologies established within their commercial lighting division, the Barbican Guard is manufactured in house ensuring the highest quality and fastest turnaround.