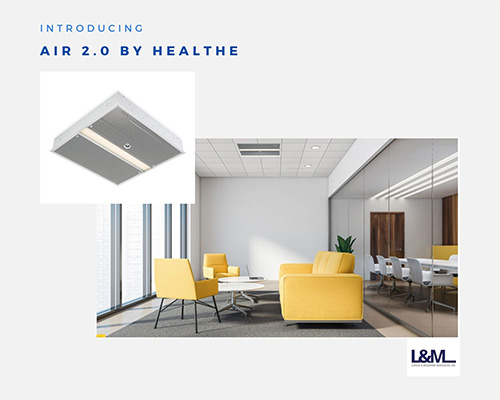 Introducing AIR 2.0 by Healthe
Healthe has reimagined their AIR Troffer to further provide care for people inside of the spaces they live, work and play. AIR 2.0 Sanitizes the air before reaching HVAC's duct openings into central system, working effectively where viruses and bacteria are spread. HEPA filter captures up to 99.97% of airborne pathogens as small as 0.3 μ while activated carbon reduces gases, odors and VOC from the air. Integral PIR motion sensor activates air sanitization when motion is detected. Easy plug-and-play installation without additional setup required, incl. essential hardware both for new and existing constructions.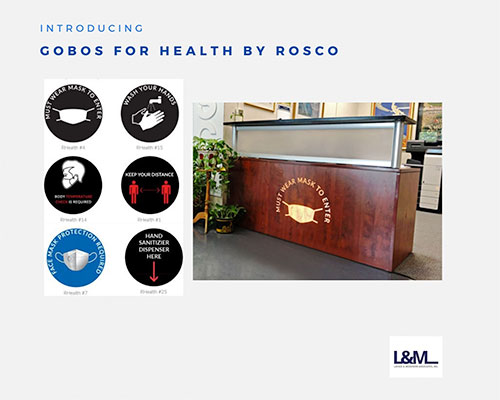 Introducing Gobos for Health by Rosco
Local businesses are looking for ways to convey their health & safety messaging to their workers and customers. Gobo projections are a professional solution that businesses can use to promote healthy practices at their establishment. Whether it's gobos in the lobby asking customers and employees to put on masks or wash their hands, or it's simply a reminder to maintain social distancing – using one of Rosco's Image Spot Gobo Projectors is a creative way businesses can use gobos to promote healthy practices. Plus, once the crisis is over, they can use it to project new gobos, like their logo, a promotional gobo, or – maybe most importantly – a gobo that says Welcome Back!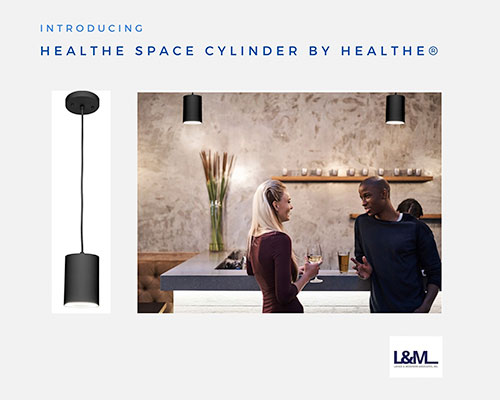 Introducing Healthe Space Cylinder by Healthe®
The Healthe® SPACE (Cylinder) provides passive and ongoing sanitization of air and surfaces for occupied spaces, in addition to comfortable illumination. Available in pendant and surface mount configurations, the Cylinder is equipped with a Far-UVC source, delivering 222 nanometer light to inactivate microbes. Multiple modes of operation for both the Far-UVC source and visible light work in concert with an integral motion sensor to provide sanitization, automatically. The Cylinder's visible light, offered in 3000K and 4000K, features a boost at 435nm to activate antimicrobial properties of TiO₂ found in surface coating and cleaners. The Cylinder is a powerful 2-in-1 solution, delivering continuous sanitization and general illumination to any space we work, live and play.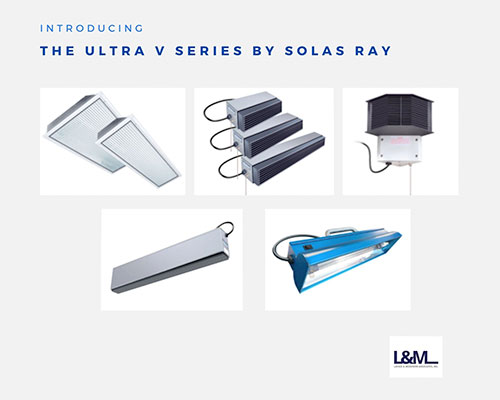 Introducing the Ultra V Series by Solas Ray
The Ultra V lighting equipment does one thing very well – Inactivates microorganisms by degrading their genetic material and molecular structure. These lights are available for recessed troffers, doorways, wall mounts, corner mounts and even a handheld wand. These products are BAA Compliant units that will be stocked at the Solas Ray facility in Indianapolis. Solas Ray is utilizing 254 nm UV to eliminate mold spores, bacteria, viruses, and other undesirable microscopic contaminants.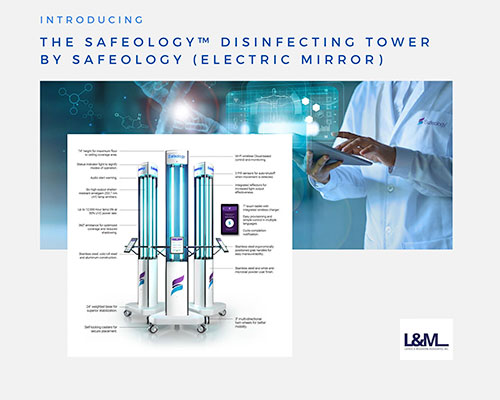 Introducing The Safeology™ UVC Disinfecting Tower by Safeology (A Division of Electric Mirror)
When Covid-19 hit, Electric Mirror's engineering, software and R&D teams quickly began developing new UV solutions. They assembled a Scientific Advisory Board of experts in infectious disease, microbiology, bioengineering and electrical engineering to guide and oversee their efforts. And within a few months of prototyping and testing, they were ready for large-scale manufacturing of Safeology UV disinfectant products. Their first release, The Safeology™ Tower gives you peace of mind by leveraging the science of light to create clean, pathogen-free spaces. With Safeology, you can safely, quickly, and efficiently eliminate up to 99.9% of surface and airborne pathogens, helping create a clean, worry-free environment.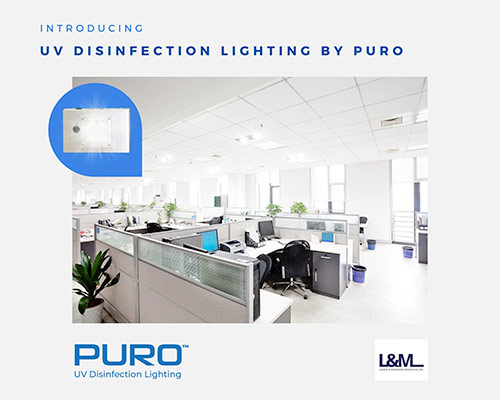 Introducing UV Disinfection Lighting by PURO™
Utilizing exclusive patents and technology from Violet Defense™, PURO™ brings a breakthrough UV disinfection solution to the market, which includes the first known high intensity full spectrum UV fixture that can be installed in a ceiling, suspended, or wall mounted. These fixtures kill up to 99.9% of bacteria and viruses and can significantly reduce the growth of fungi such as yeasts and molds, when used at the recommended spacing and runtimes. This technology gives users the ability to disinfect a room of any size, on demand. It can be used on demand, scheduled to run overnight, or integrated into a building automation system for reporting and ease of integration in day to day operations. PURO™ proprietary UV disinfection technology is now accessible and easy to use for the broader commercial market, in many applications.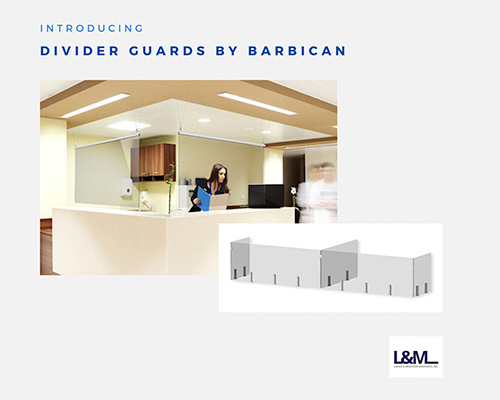 Introducing Divider Guards by Barbican
Barbican's Divider Guards are the perfect solution for protecting employees and visitors in a work environment. Permanent and temporary mounting options are available, including a clamp-on version. A cutout for document transactions or cable routing is also available.  Guards are washable with all Health Care grade antimicrobial cleaners making them suitable for areas with high sanitary requirements.  Using existing technologies established within their commercial lighting division, the Barbican Guard is manufactured in house ensuring the highest quality and fastest turnaround.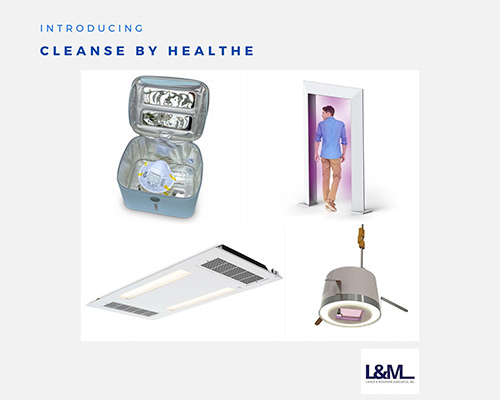 Introducing Cleanse by Healthe Lighting
Cleanse® was created to protect people's health and wellness while combating spreads of common contagions *think Covid-19*.  By employing specially designed ultraviolet (UV) technology, the Cleanse sanitization process eliminates up to 99.9% of germs, bacteria, and viruses by modifying and destroying their genetic material (DNA/RNA) preventing further replication.  While not replacing the traditional methods of cleaning and sanitizing air, surface, as well as PPE and other personal items, integrating the Cleanse product portfolio into your normal cleaning routine offers an added layer of protection for your office, hospitals, home, or any suitable settings.  Available in standard forms like troffers and downlights, as well as more forward thinking forms like entry gates, totes and lockers.